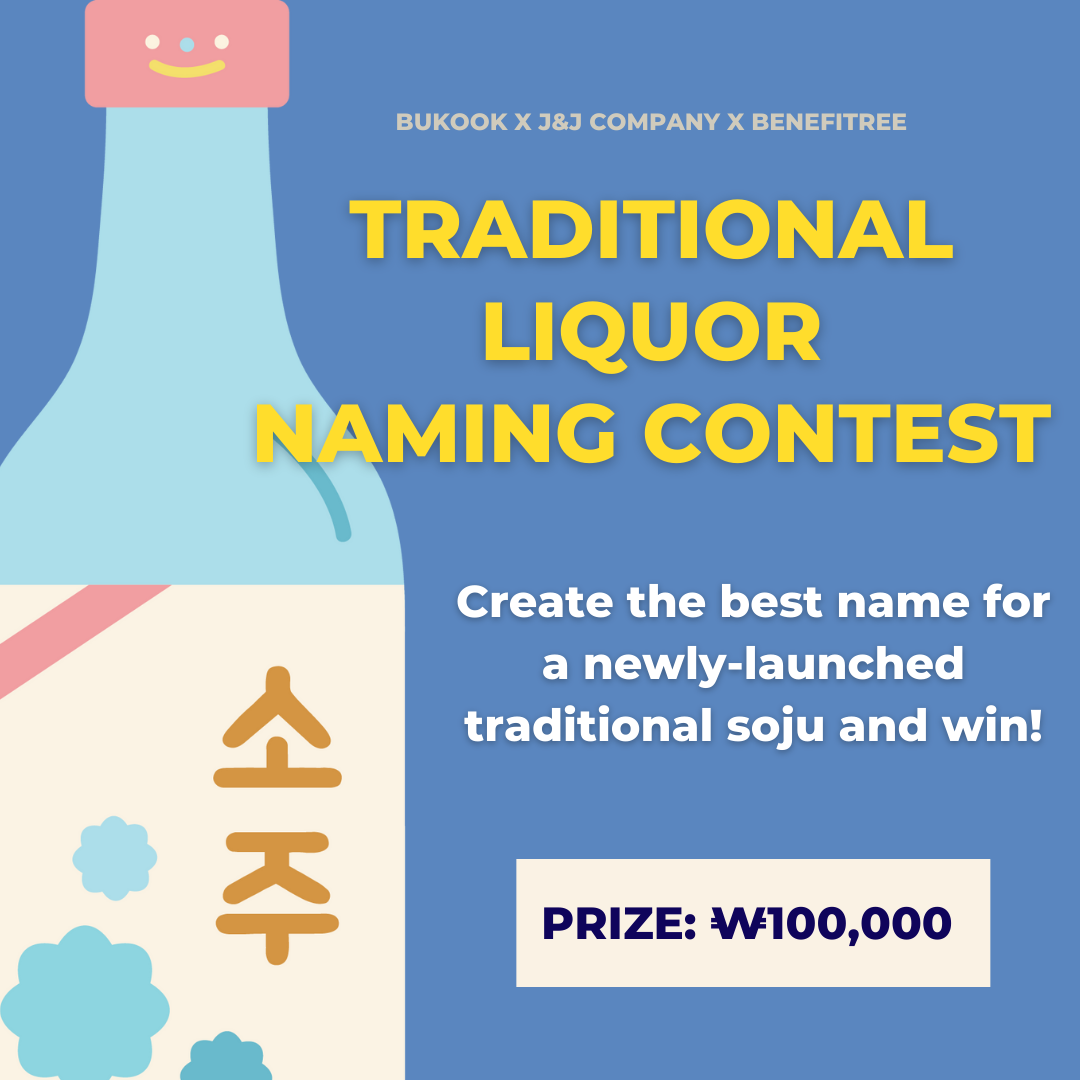 This contest has ended~!
A NEW TYPE OF SOJU is about to be launched in 2022
Get a chance to see the new traditional liquor being sold all over the world
under the name you have created!
Make a name that goes well with real soju, rich in scent and taste,
made by the best soju artisans, and become the winner of the contest!
Check all the details in the poster and good luck!
---
Event period
○ Deadline : 2022/12/6(Mon) ~ 12/15(Wed), 12PM
○ Winners announcement : 2022/12/17(Fri) 11AM
* Notice will be uploaded to the website, winners will be contacted individually
○ Prize : 100,000 won
○ Contents
- Only foreign residents living in KOREA can participate
- Both English and Korean naming variants are possible
- The creation style is Free of choice, Depending on the participant's style and preferences
- Participants under 19 years old are not allowed to take part in the contest
○ Host : Daul Friends (Bukkok x J&J Company x Benefitree)
○ Apply : www.playsul.com
What is the product ?
New type of alcohol to be released in 2022 : distilled soju
Distilled soju is a clear and transparent liquor that is made by fermenting and boiling grains, and distilling pure alcohol.
It is a popular traditional liquor with the best Korean traditions expressed in tis scent and taste.
---
Winner Announcement!
2022 Traditional Liquor Naming Contest Winner Announcement!
Thank you to all 80 of you who took part in the contest.
There were a lot of unique names, but after much deliberation, there is only one winner.
Congratulations !
Name : 술이랑
Story
I heared one time that soju is considered korean's lifetime friend and i thought of this name. As a cute way to express the idea.
The word 술이랑 "sorirang" also rhymes with 'Arirang' the title of the popular traditional song that talks about leaving and reunions as well as hapiness joy and sorrow.
Keep an eye out for the various fun events and programs we have coming up :)