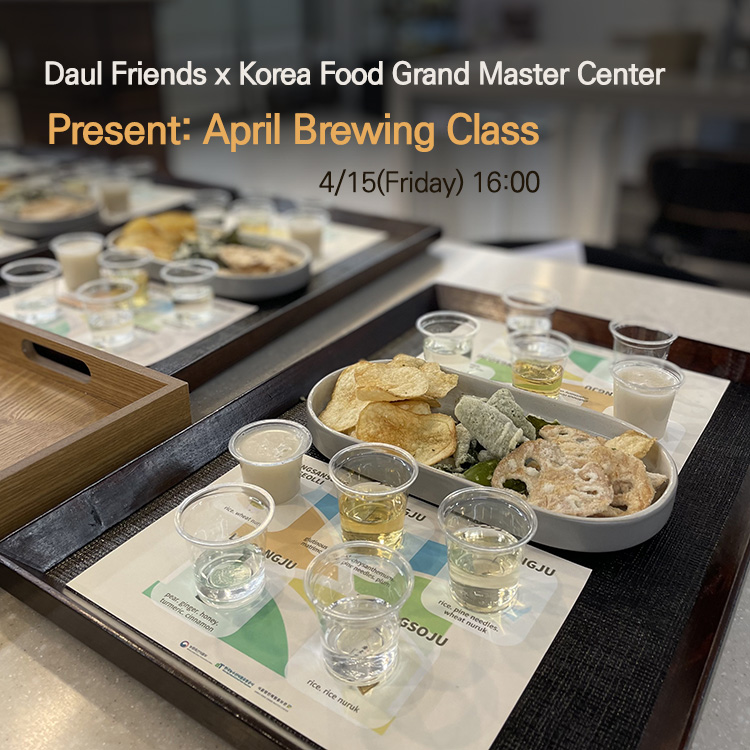 Daul Friends x Korea Food Grand Master Center
Present: April Brewing Class
On a warm spring day,
take time to taste traditional liquor created by master brewers and share fun stories about liquor.
Be enchanted by traditional liquor while making your very own makgeolli with loved ones.
---
Class Overview
○ When: 4/15(Friday) 16:00~18:00 (120 minutes)
○ Where: Korea Food Grand Master Center 1F
(18 Bukchon-ro, Jogno-gu, Seoul / 안국역 2번출구)
○ Participants: 20 people
○ Duration: 2 hours
○ Content:
• Making My Own Makgeolli Class
(Director YOONJU CHO(조윤주) / Korea Food Grand Master Center)
• 5 types of Master-brewed Liquor and 2 types of New Makgeolli Tasting Event, Korean Liquor Stories
(Ph.D & Sommelier JIN AH JEON(전진아) / Daulfriends Corp. )
• Free time to enjoy with others
* Master-brewed Liquor, refreshments, and a jar of sikhye are provided.
* Prepare ingredients, fermentation, etc.
* Global program with Koreans
○ The class will be held in Korean and English
○ How to register:
Step1. check the program and schedule
Step2. fill out the registration form
Step3. deposit the class fee
Step4. When payment is complete, please leave a comment
(ex. Payment completed / Lucy Lee / 2people)
Step5. Meetup
* First come, first serve (more information to be given after application and deposit confirmation)
* Confirmation emails will be sent all at once.
○ Class fee
- 50,000 KRW per person
- Bank transfer: Woori Bank 1005-904-307301 / (주)다울프렌즈
* If the name on the reservation is different from the name on the bank transfer, please let us know.
How to cancel
As materials are prepared in advance,
up to 5 days before class: 100% refund
up to 4 days before class: 50% refund
up to 3 days before class~ day of: 0% refund
* Please leave a comment to change your reservation.
Contact playsulofficial@gmail.com
---
Korea Food Grand Master Center
Korean Food Master is a nationally recognized cuisine professional on the tradition and excellence of cuisine. The Korean Food Master System is designed to appoint and foster artisans in areas of instituting, producing, and cooking Korean cuisines. It has started as Traditional Korean Food Grand Master System since 1994 and enlarged to include general cuisine artisans from 2008.
A Korean food master is chosen under a set of strict standards by Ministry of Agriculture, Food, and Rural Affairs and the requirements are listed as followings:
• An artisan who devoted 20 years or more in one of the cuisines
• An artisan who can retain and able to perform in authentic and traditional ways
• An artisan who inherited the retention practices from a previous artisan and engaged in 10 or more years in professional